We're All Adults Here
Book Recommendations & Other Musings
by Carol Tuttle

We are Putting Books Back in Your Hands
The CLEVNET catalog is fully open for business! This week, all holds became active and materials have started circulating between the libraries in the consortium. Once again place holds on anything and have it sent to your favorite Willoughby-Eastlake library for pickup. "Does this mean everything is normal?", you ask. We are all dreaming of "normal", aren't we?? At this point, items requested from outside our buildings may take a little more time to travel. We are doing our best to provide the superior library service you expect and ask your patience as the system that has been disrupted since March gains momentum to get up to speed.
You are able to come into our buildings if you need to browse and pick out your own items. We are happy to see the smiling masked faces of our patrons! Self-checkout stations or using the MeeScan app  allows you to check out and go with minimal contact in the building. But our convenient curbside service remains the safest way to receive your library materials. Find out how here: https://we247.org/curbsideservice/
There have been some books published while the catalog was closed, and I want to be sure you didn't miss them. You can always see the latest book releases on our website .You can place holds now on these excellent titles and here is one that I have reviewed:
The Daughters of Erietown by Connie Schultz
This novel drew me back to my teenage years in the early 1970's, portraying the tension between what we wanted for our lives, what was expected, and what was offered to us. That is the essence of coming of age, no matter your gender or era, and the daughters (and sons) of Erietown grapple with possibilities and realities. Beautiful writing, well-constructed characters and a realistic plot draw the reader in and carry her along. The setting will certainly resonate with anyone from Northeast Ohio, or any small town with working class immigrant roots. I finished the book yesterday morning and have not yet been able to move on to another; I'm not willing to push Ellie and Brick and Sam out of my head to make room for another author's characters.
**WEPL will be having an online book discussion of The Daughters of Erietown on Thursday, August 13 at 7 pm. Please join us to discuss Connie Schultz's new book. Discussion will be online via Zoom. The zoom link will be sent out 24 hours prior to the event to all participants. If you need a copy of the book, place a hold or call your library. Register here: https://bit.ly/WEPLDaughters **
Carol Tuttle is the Collection & Digital Services Manager for the Willoughby-Eastlake Library System. She  is currently reading The Splendid and the Vile by Erik Larsen.
Find This Title at the Library:
[su_divider top="no" style="double" size="1″ margin="5″]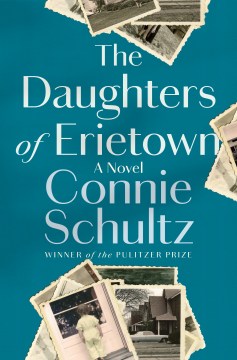 The Daughters of Erietown by Connie Schultz