Movie Review
Insidious: The Last Key
by Dennis Campbell


From the mind of Adam Robitel (The Taking of Deborah Logan), and the pen of Leigh Whannell (Saw and Insidious 1 & 2), comes the fourth entry in the Insidious franchise.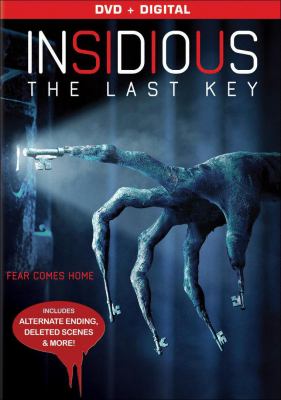 A problem which plagues most ongoing franchises that do not have source material is how messed up their timeline and story gets over time. As an example, characters who you thought were dead might come back to life. An excellent example of this is (spoilers) Halloween: H20, where Laurie finally kills Michael, only for that movie to make enough to warrant a sequel and for him to be brought back to life. Or, if you look at another popular Horror franchise, Saw, you'll see just how convoluted the plots became just so Tobin Heath could have an apprentice. While this is only the fourth film in the Insidious series, many of the problems which weighed down previous ongoing franchises are starting to rear their ugly head. The most obvious would be that this is chronologically the first film you would need to watch if you were to go in order. Referring to Saw once more, the eighth film titled Jigsaw, is the sixth in its timeline. Even though this is the first film in the timeline, there are still character details that would be helpful to know walking into the picture. So, making this a prequel to the first film does complicate things to casual, first time viewers.
The story follows, what I feel, has always been the best part of these film, and that is Lin Shaye's portrayal of the brooding, timeworn psychic Elise. In this film we see her now fully convinced that she must use her psychic abilities to contact the dead. Elise teams up with two investigators, Specs and Tucker, together they take distress calls from people experiencing hauntings. One way of doing this, or triggering it I should say, is by visiting her childhood home which itself was victim to many horrific events. She is persuaded to return to the home by a client of hers named Ted, who reveals that he is now living at the home, and whatever paranormal entities tormented Elise as a child are active once more. The one which effects Elise the most was the murder of her mother, Audrey (Tessa Ferrer).
Before we see Elise return to her home, we are given a lengthy backstory describing how she is able to see criminals who had been executed in electric chairs. While her mother is quite concerned about this, Elise father, Gerald, turns to anger and often takes it out on young Elise. Although many of the actions Gerald takes throughout the film are unforgivable, it is hinted at early on that he too might be affected by the spirit world, in this case, a demon. It is very apparent that her parents do not believe her early on. However, there is a pivotal moment early in the film which convinces Audrey otherwise. It is during this scene that we meet the main villain of the movie, Key Face.
A staple of this franchise has always been the jump scare. They were prevalent all throughout the previous three, and while they do make an appearance here they at least have a slow and enjoyable build up to them. Atmosphere has been another positive so far in this series. The highlight of this can be found in the very first film, when we are taken to 'the Further,' the plane of existence where all the paranormal entities live. All the films have been shot in a very grim sense, with dark colors being used or simply washing out any bright colors that were being used. These traits are carried over into this film as well. While it fits the mood well, if you have a hard time looking at the same colors for almost two hours, then it can be difficult to plow through. The best examples I can give to this are Harry Potter and the Half-Blood Prince, where everything was given a grey tone, and the Matrix, where the entire picture was tinted green.
While this is only his second film, Robitel does a very good job behind the camera. There is not much to work with, but very rarely did I find myself question why I scene played out the way it did. His one picture before this was The Taking of Deborah Logan, a film about a documentary crew researching patients with Alzheimer's. During their investigation, they discover something sinister about one of the patients. This movie received terrific reviews, with one critic calling it a 'Netflix Horror Gem.'
Overall, I enjoyed the film. There is enough here in visuals and acting alone to drown out the needlessly complicated plot holes and confusing story. Lin Shaye owns every scene that she is in and it is her performance that makes not just this entry, but all four of them worth watching.
If you end up enjoying Insidious: The Last Key, or just found its direction intriguing, I did come up with a few titles that might interest you. Luckily, they are all films that the library does have. The first would be the 2013 Thriller, Oculus, a film about a mirror that can control people without their knowledge. Second on the list is 2012s Sinister. You may have heard of the sequel that came out just a few years ago, I would skip that one, and just watch the original. This film is about an ancient evil that targets family members who lived in a specific home. It stars Ethan Hawk, and is an outstanding Horror film. Lastly, I recommend the original Saw film from 2003. The reputation of the Saw films as being gruesome and hard to watch at times is well earned, but the first film is an intense Thriller. The film is so watered down in violence compared to the others, that the film was initially rated PG-13. It was only after adding a few closeups that the rating was bumped up to R.
Dennis Campbell is a Circulation Clerk at the Willowick Library.
[su_divider top="yes" size="1″ margin="5″]
Find These Titles at the Library
[su_divider top="no" size="1″ margin="5″]