We're All Adults Here
Book Recommendations & Other Musings
by Carol Tuttle
Love and Ruin by Paula McLain
Knowing the ending doesn't spoil this new novel at all.
Paula McLain, Cleveland author of The Paris Wife and Circling the Sun, never expected to write this new novel. The Paris Wife was her luminous, bestselling historical fiction novel based on the marriage of Ernest Hemingway and Hadley Richardson, and Paula felt she was done writing about Hemingway. But Hadley was only the first of Hemingway's four wives. His third wife, Martha Gelhorn, was an acclaimed war correspondent and author. Paula McLain, who combines extensive research with magical story-telling, was drawn to capturing their story.
Love and Ruin is a novelization of Martha Gelhorn's life from January 1936 to June 1944. While it is a love story, it is no romance novel. For the women who loved Hemingway, there was no "happily ever after". Young Martha Gelhorn was an independent woman with her own career at the time she met and fell in love with Ernest Hemingway. Every couple's future is dependent upon concessions and negotiations. In Love and Ruin, this future is complicated by the strong and driven personalities of Martha and Ernest.
Paula McClain's literary skill makes this book a pleasure to read and experience. She leads the reader on a fascinating historical and geographical journey through the Spanish Civil War, Cuba and World War II Europe. We get to travel along on Martha's adventures: smelling the salt air of Old Havana; feeling the cold and danger of Helsinki. The settings are made real. And the voices of the characters draw the reader deep into the book. Hemingway attracts and repels. We feel the quandaries Martha faces, both in her personal life and working as a journalist in a time and place that had little acceptance of women in this role. Martha is Everywoman, balancing an ongoing identity struggle in roles of wife, (step)mother and her professional self. The ending? Well, no surprises there. Book clubs will have a gem of a session when they pick this title to discuss. Character, story, setting and language. This new novel by Paula McLain satisfies us all, no matter which doorways to reading we pick.
Do you want to meet Paula McLain and hear her speak about this new book? The Lake-Geauga League of Libraries is sponsoring an appearance by Paula McLain at Newbury Auditorium (14775 Auburn Road, Newbury, OH 44065) on Saturday, May 5 at 4 pm. Register here.
[su_divider top="no" style="double" size="1″ margin="5″]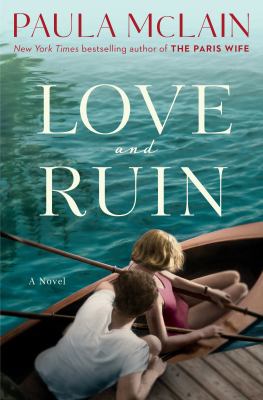 Love and Ruin