We're All Adults Here
Book Recommendations & Other Musings
by Carol Tuttle

Is a Coffin Just a Box?
An apt question for the month of October, when death looms in our consciousness as Halloween and All Saints observances approach.
The question of a coffin is explored by David Giffels, author of Furnishing Eternity: A Father, a Son, a Coffin, and a Measure of Life. I picked up this book as soon as it was published last January and was immediately hooked. I trusted the author from his previous work and personable appearances at library and book events. He did not disappoint with this new nonfiction title. Furnishing Eternity is the offbeat story of Giffels's adventure constructing his own coffin (on a dare with his wife, no less) in his father's workshop in northeast Ohio. The author relies on the woodworking skill of his octogenarian father. Giffels opens up with sincere (even humorous) prose about the impact of adult relationships with one's parents and grappling with mortality at the loss of people close to his heart.
An Ohioan to the core, Giffels mentions Midwestern qualities as they relate to circumstances in this book, appealing to regional readers. The author's heartfelt voice, writing style and his devotion to his wife, friends and family make this memoir as comfortable as chatting with a friend over a beer even while it explores profoundly personal feelings.
But there's more to the story: meet David Giffels and hear first-hand about his memoir, including what developed following its publication.
Willoughby-Eastlake Public Library is pleased to partner with Ohio Living Breckenridge Village to bring this popular local author to our area. He will be speaking and signing his books on Saturday, Oct. 20 @ 1 pm at Osborne Community Plaza, 36851 Ridge Rd., Willoughby, OH 44094. Register here http://bit.ly/2O5i2yT  or call any of our four libraries: Willoughby, Willowick, Eastlake or Willoughby Hills. Books will be available to buy at the event.
Carol Tuttle is the Collection Services Librarian for the Willoughby-Eastlake Library System. She is currently reading Small Great Things by Jodi Picoult.
Find This Title at the Library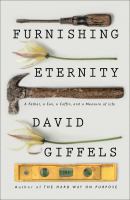 Furnishing Eternity