We're All Adults Here
Book Recommendations & Other Musings
by Carol Tuttle

Happy Hoopla Holidays from WEPL
You're busy and stressed, I know. At this point in the holiday season, if you carve out a moment to read, you don't want to be waiting in line for books. Or audiobooks. Or music. Well, you passed our library levy in November and we listened. The hoopla limit on checkouts has been raised so you can enjoy multiple items this month.
Forty items, from albums to audiobooks, from adult to kid interest level, can drop into your device at the tap or two of your finger by using our hoopla service. ALWAYS AVAILABLE, NO WAITING! If you see it on hoopla, it is yours for the taking.
Don't even get me started on the holiday music selection on hoopla. I must admit to downloading Raffi's Christmas Album to play as we drove to the tree farm to get our Christmas Tree even though there were no children in the car. Hoopla selections can stream on your laptop or download to the app on your device to listen/watch/read anywhere.
There are many children's popular ebook options like the Frozen 2 Read-Along Storybook, Pete the Cat Saves Christmas and Polar Express (this is a lovely read-along version). Not wanting holiday reading? Who could pass up the newest Diary of a Wimpy Kid: Wrecking Ball.
Adult ebooks for the season include A Christmas Carol (by Dickens, of course), We Met in December by Rosie Curtis and The Perfect Christmas by Debbie Macomber. For non-holiday reading, try the book behind the current movie, The Good Liar!
There is even TV on hoopla. I became a fan of The Great British Baking Show, but never saw the first season. It's on hoopla, free with your Willoughby-Eastlake library card!
Carol Tuttle is the Collection Services Librarian for the Willoughby-Eastlake Library System. She is currently reading Royal Holiday by Jasmine Guillory.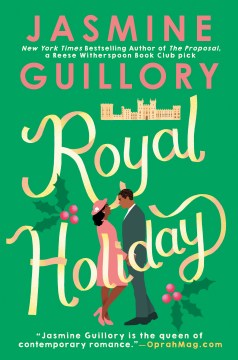 Royal Holiday by Jasmine Guillory