Welcome to Willowick Teen Librarian Bryn's new blog feature, where she shares the various Anime aired at her awesome Tween & Teen Anime Awesomeness program! The next session is Wed., Nov. 15, 3:30 pm. Register: https://bit.ly/3MwS3jP
Greetings, fellow otaku!
At the latest session of Tween & Teen Anime Awesomeness, we watched an anime released in 2000 called Mon Colle Knights. As a group, we decided it very much had a Pokemon/Yu-Gi-Oh "gotta catch 'em all" and "use cards to get them" kind of vibe. Unfortunately, this anime is not available through Clevnet. Honestly, in my opinion, you're not missing too much.
HOWEVER, I think in a somewhat similar vein I WOULD recommend an anime we watched in a previous session of Anime Awesomeness: Cardcaptor Sakura (1999). It also features pre-teen protagonists, has the flair of some interesting and fun outfits (and poses), and maintains the "collection" theme. In Cardcaptor Sakura, 10-year-old Sakura accidentally unleashes a magical set of cards (called "Clow Cards", named after sorcerer Clow Reed) which then disperse from her basement. When Sakura learns that she has magical abilities, she is tasked with retrieving the cards that got away- and with each card she finds, she must battle the magical entity of that card and seal it away.
The manga for this series has been popular at the library. Within the last few years, a sequel series has also been produced: Cardcaptor Sakura Clear Card. The sequel series takes place when Sakura is entering junior high. After she has a strange dream, Sakura finds that all of the Clow cards are now blank and powerless. It is then up to her to find out what is wrong and how to fix it. (As a sidenote, there is a super fun cookbook called "Oishisou!! : the ultimate anime dessert cookbook" which has a recipe for "Rare Cheesecake" from the Clear Card series. It has a variety of other tasty treats from different anime as well!)
Place hold on Cardcaptor Sakura anime (episodes 1-4): https://bit.ly/472T8In
Place hold on Cardcaptor Sakura manga (omnibus book 1): https://bit.ly/49mXkEC
Place hold on Cardcaptor Sakura Clear Card anime (Season 1 part 1, Blu-ray): https://bit.ly/3u5wnVX
Place hold on Cardcaptor Sakura Clear Card manga (volume 1): https://bit.ly/3FKEp9c
Place hold on Oishisou!! : the ultimate anime dessert cookbook: https://bit.ly/3SvGPQp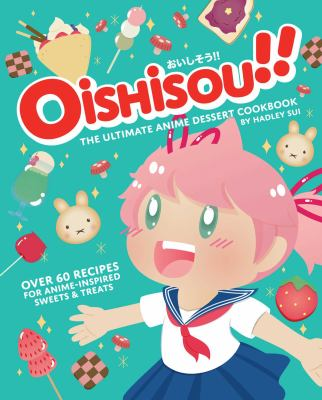 Until the next episode,
Miss Bryn