To celebrate Arts & Humanities Month, our Collection Services Librarian has written a series of book reviews of titles that take place in the art world. This is the third review.
BLK ART: The Audacious Legacy of Black Artists and Models in Western Art by Zaria Ware (January 2023)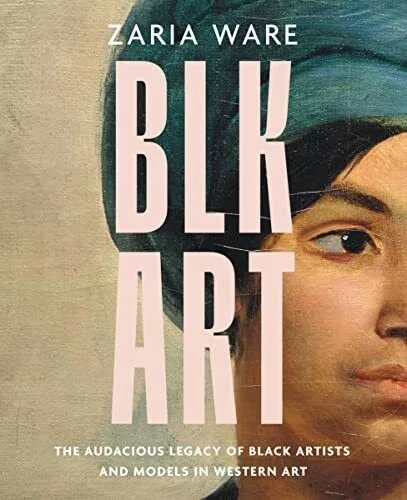 "Buckle up. This is black history like you've never seen before". Author and independent curator Zaria Ware is not overstating. This lucid art book celebrates the often overlooked black and brown artists and artists' subjects in Western art history.  Zare uses modern and fun language, supplemented by beautiful images to deliver a remarkable sweep of black art in Europe and North America before the Harlem Renaissance.     
Going in chronological order, Ware takes the reader to 476 CE Middle Ages, introducing the audience to figures such as Mansa Musa, one of the wealthiest people of all time and military leader, patron Saint Maurice. From there, the reader's curiosity piques as they learn about black members of the Tudor family and a mysterious potential daughter of Louis XIV. Readers learn how art created by and of black women challenged social standards and how the "Orient" craze impacted fashion in art. Zare incorporates case studies into the book, including a study that focuses on portraits of black subjects in the Rijksmuseum in Amsterdam. The second half of the book is a compilation of short biographies of the black and brown artists that made waves that set the Harlem Renaissance in place. Zare shines a light on the four black artists that she considers the first to reach mainstream success—landscape painters Robert Seldon Duncanson and Edward Mitchell Bannister, sculptor Edmonia Lewis, and religious painter Henry Ossawa Tanner.  
Vivid and elegant, this is a must-read for today's art enthusiasts of all levels.
Place a hold on BLK ART: https://bit.ly/46kTaeC