These blog posts give our community a chance to better know their friendly Willoughby-Eastlake Library employees. Meet Amanda Schoen, Library Systems Manager, AKA, The Tech Librarian/IT System Administrator for all locations.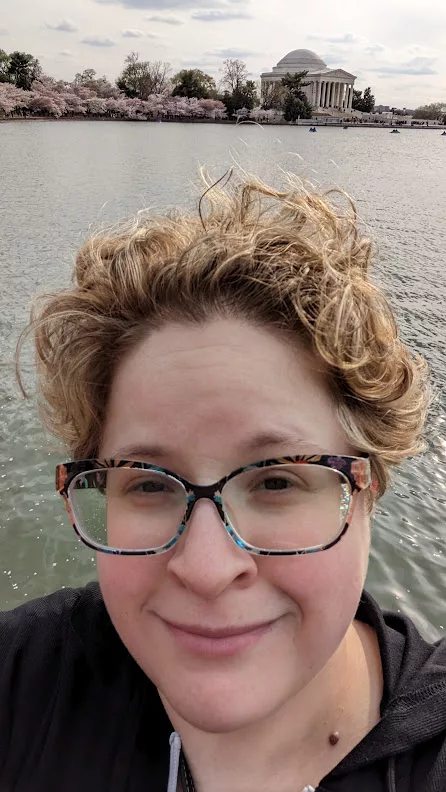 Why do you love libraries? What is your earliest library memory?   
My earliest memory of libraries was my mother taking me to get my first library card when I was 6 years old. I grew up in Lakewood Ohio and went to the smaller branch of Lakewood Public Library, the Madison branch. The first book I checked out was Little House on the Prairie by Laura Ingalls Wilder. I was already a good reader at a young age, but The House on the Prairie series hooked me on reading. I was also a big computer buff at an early age. We had one of those Mac OS7 Performa Macintosh computers in my house by the age of 6 and we had AOL and dial up modems when the internet was in its infancy. I remember going to Madison Library to use their computers not to tie up my family's phone line. I loved using their encyclopedias on floppy disks and CD roms to look up random interests I had. I even did a report in elementary school on the different trails (AKA Oregon Trail, due to my love of the Apple II game), based on the information I gained from the CD rom encyclopedia from the library. I was not asked to do this report for school. I just did it because I loved using the resources from the computers at the library.  
What do you like to do in your free time?  
I love to tinker with computer hardware, especially single board PCs like Raspberry Pi's. Check out The MagPi magazine, available on Libby for more information about things you can do with single board PCs like Raspberry Pi's.  
Click here to check out all Libby magazines: https://bit.ly/3D1oLVr
I am a member of the women's auxiliary of Freemasonry, The Order of the Eastern Star. The Order of the Eastern Star is a local charitable group dedicated to companionship, charity, and benevolence. We meet twice a month. For more information, check out: https://www.ohiooes.org/  
I am also generally into self-improvement and continuing education. I highly recommend you check out LinkedIn Learning available through the library. There are so many courses you can take to help you get additional career certifications- for free with your library card! https://bit.ly/3NFqJ3O 
What is your favorite quote, passage, or piece of advice, and where did you read or receive it?  
The best piece of advice I received in the past few years was to stop focusing so much energy on people who do not return your kindness and energy. You only have one life to live, and it is better to surround yourself with people that appreciate what you bring to the table. There are a lot more people out there than you think!  
What is a library "hidden treasure" that you want patrons to know about or know more about?  
Do you know we offer faxing for free? And up to $1 of free printing a day? I do not own a printer because I do not print that often. But when I do, I use the library because of all the free technology we offer. We just updated our printers, so they are the best around. We recently updated our fax machines to make them more user-friendly. Go check them out!
Learn more about our print, scan, and fax services here: https://bit.ly/3YROSZ4
Also, I love the Adult Reading Challenges through Beanstack that we offer seasonally. It's fun to explore your horizons and read books you do not read too often.  
What are you currently reading?
I just finished Demon Copperhead by Barbara Kingsolver. I fell in love with Poisonwood Bible in the early 2000's. When I saw she had a new book that came out, I grabbed it as quick as I could. I highly recommend it. I'm also starting the Outlander series by Diana Gabaldon. I have not seen the TV show, but I am a big history buff. I love it so far. 
Click here to place a hold on Demon Copperhead: bit.ly/3EyZ9jL
Click here to place a hold on the Outlander series: bit.ly/3PhQiJn