We're All Adults Here
Book Recommendations & Other Musings
by Carol Tuttle

Authors and Librarians are Mutual Fans.
Authors are the rock stars of the library world, and librarians (along with avid readers) are their devoted fans. But many authors are also fans of libraries. Authors appreciate the help librarians provide during their writing process, sometimes helping with research or a place to write or just plain encouragement. And librarians are important marketers for their books. Not only to we buy the books for our building collections so patrons can borrow them, but we also shout out their praises to any reader who will listen. One of the most enthusiastic authors shouting out to libraries is Lisa Scottoline. She is a best-selling author known for her legal thrillers (Rosato & Associates/Rosato & DiNunzio series) and humorous nonfiction. Now she has written her first historical fiction book! Her brand-new book, Eternal, has rocketed to #4 on the NY Times Hardcover Bestseller list. BIG NEWS: Lisa Scottoline will be joining us live via zoom on April 15 at 6:30 pm! Register for the zoom link here: bit.ly/eternal_book
True confession here: Not being a big fan of legal thrillers, I had not read any of Lisa's previous fiction. I was intrigued when I heard about her upcoming historical fiction novel and was lucky enough to snag an advance reader copy. I love historical fiction that weaves together fascinating characters, plot and fact. A great book for me is when I can disappear into the character's world and learn some history at the same time. Lisa's new novel scores on all those points. Eternal is set in Italy during the Fascist regime and subsequent Nazi involvement; it is a solid dose of important history told through the lives and loves of characters who are personally affected by the politics. The impact of decisions and the efforts of individuals to change the course of their country and their lives are vividly portrayed. The slippery slope of granting authoritarian power is a cautionary tale. Eternal is sure to be a hit with book discussion groups, and we would love to have you join us on zoom May 19 for a book discussion of Eternal.  Register for the discussion here: bit.ly/eternal_discussion.
Carol Tuttle is the Collections & Digital Services Manager for the Willoughby-Eastlake Library System. She  is currently reading  Klara and the Sun by Kazuo Ishiguro.
Find This Title at the Library:
[su_divider top="no" style="double" size="1″ margin="5″]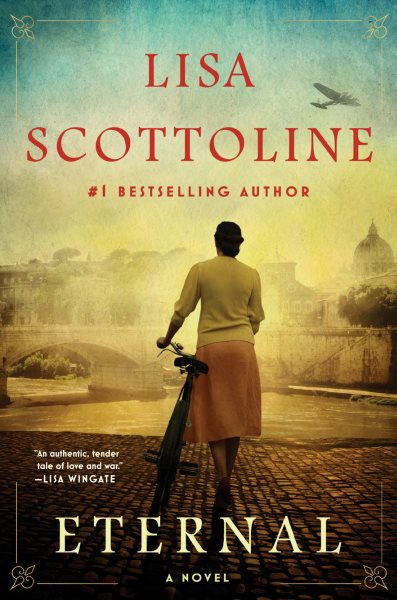 Eternal by Lisa Scottoline