May I Help You?  A Guide to Information
by MaryAnn Friedlander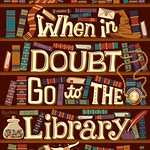 As a WEPL librarian working from home, I soon realized just how much I missed coming to the library, seeing patrons and answering questions that make a difference in someone's life.    As a person, I also realized that we are living through life changing situations that are stressful, life altering and just plain scary.
One shortage that is not happening is an overabundance of information, news and scams happening on the internet, the radio and TV.  What I would like to do, is to provide guidance to find answers to issues you may be experiencing or help provide Information that points you to resources that can guide you to answers you may need.
Today, I want to jump in and provide general information websites that can be starting points if you have questions about community resources or if you have a small business that is need of help.
Lake County Specific Information
United Way Lake County
Food Pantries: https://www.uwlc.org/food-pantries
Free Home Delivery Grocery Program for Seniors: https://www.uwlc.org/sites/uwlc.org/files/REV_Flyer_Home%20Delivered%20Grocery%20Program.png
Other Free Help and Resources are available https://www.uwlc.org/covid-19-help-resources
Information for Lake, Cuyahoga and Geauga Counties
Tri-C has a list of community Organizations offering support during the COVID-19 pandemic.
Some of the resources include:  Internet providers, Utilities, Health Care Links, Student Meals and Emergency Meal distribution, Hunger Centers, Legal Aid, Job and Family Services (unemployment information), Voting Information, United Way and the Willowick Pet Food Pantry.  https://www.tri-c.edu/administrative-departments/business-continuity/covid-19/community-resources.html
Additional Information and Resources are listed on the Economic & Community Development Institute website. https://www.ecdi.org/covid-19/
Financial assistance: 
Cleveland City Council has announced plans to take legislative action with the goal of suspending evictions for at least 60 days for people experiencing economic hardship caused by the novel coronavirus.
Cleveland Water and Cleveland Public Power (CPP) have temporarily stopped disconnection of residential services for non-payment. If you have recently been disconnected for non-payment, please call Cleveland Water at 216-664-3130 or CPP at 216-664-4600.
HFLA of Northeast Ohio is offering emergency, interest-free loans to people affected by the coronavirus. Loans of up to $1,500 are available for purposes including, but not limited to, lost wages, child care costs due to school closures, and medical costs. Learn more and apply here, or call  216-378-9042.
Painesville City has temporarily stopped the disconnection of residential services for non-payment during the month of March. If you have questions about your connection, contact 440-392-5797.
The State of Ohio has extended unemployment benefits to workers in quarantine and employees of businesses that temporarily shut down due to coronavirus. Learn more here.
Food resources: 
Chardon Local Schools will be offering meal services and other resources for families during the school closure. Please visit their Facebook page for the latest.
Cleveland Metropolitan School District is offering free meals for all children in the city of Cleveland ages 18 and younger as well as shuttle service to and from the 22 meal pickup sites. Schools will also provide instructional material for students to use during their time off. Learn more here.
Geauga County Department on Aging will continue its home delivered meals program and will be offering Congregate Meals "to-go" at each of its senior center locations. Learn more here.
The Geauga County Hunger Taskforce supports independent food pantries and other resources for area residents in need. Call 440-285-2261 or visit their website here.
Greater Cleveland Food Bank works with partners across the community to deliver and distribute food to residents in need. Access food programs here, or call 216-738-2067.
The Lunch Box, Painesville City Local Schools' mobile food service program, will distribute pre-bagged lunch and breakfast meals to all children under 18 while schools are closed. Please visit their Facebook page for more information.
United Way of Lake County offers a listing of area food pantries by city. You can find more information here.
Civic engagement: 
The U.S. Census Bureau is monitoring the coronavirus situation and modifying its operations accordingly. Completing the census form online is highly encouraged. You can learn more here.
Vote by mail: Following the suspension of the March 17 primary election due to the current public health emergency, you may request an application from your county board of elections to vote by mail:
Small Business Resources for OH are listed on:
https://www.bizjournals.com/cincinnati/news/2020/03/27/state-resources-available-for-businesses-affected.html
Even though the WEPL buildings are closed, we are still here to help provide you with information.  You can reach us at

[email protected]

and we will answer your questions the same day or by the next business day.
MaryAnn Friedlander is Assistant Manager at the Eastlake Public Library