We're All Adults Here
Book Recommendations & Other Musings
by Carol Tuttle

Have an Author Experience
Meeting an author can bring a deeper dimension of appreciation for their book. As with media celebrities, an in-person author experience can deepen the understanding of their work and perhaps cause a bit of fandom, too. I wanted to alert you to two upcoming author visits for WEPL patrons (and both books are set in Ohio!).
First, the Lake-Geauga League of Libraries has been bringing both well-known and some brand-new authors to the area for the enrichment of our readers. On Wednesday, September 12 at 6:30 pm, the League will be bringing in debut novelist Stephen Markley to appear at Lakeland Community College. His new novel Ohio is receiving wide acclaim. Set in the fictional city of New Canaan, Ohio, the novel follows four high school classmates as their lives diverge and intertwine as they move into adulthood and reflect on their teenage years. NPR declares: "Markley's debut is a sprawling, beautiful novel that explores the aftermath of the Great Recession and the wars in Iraq and Afghanistan, and a powerful look at the tenuous bonds that hold people together at their best and at their worst…It may sound like an odd thing to say for a book that's so unflinching in its look at violence, but Markley's novel is, in the end, about love — how it can unite and divide, sustain and destroy." Register here if you are planning to attend: https://bit.ly/2C0cbcu
Secondly, through a unique collaboration with Ohio Living Breckenridge Village, Akron author David Giffels will be speaking and signing books on Saturday, October 20 at 1 pm. This event will be held at the Osborne Community Plaza on the campus of Breckenridge, 36851 Ridge Road in Willoughby. Giffels's most recent book is the memoir Furnishing Eternity: A Father, a Son, a Coffin, and a Measure of Life. Set in Ohio, this nonfiction book deals in a gentle way with confronting mortality and cherishing family relationships, but also appeals to anyone who appreciates the craft of woodworking. Giffels's sense of humor allows him to convey heartfelt philosophy as he constructs his own coffin with help from his skilled eighty-one-year-old father. This event is open to the public. You should register for the David Giffels author event (October 20) here: http://bit.ly/2PjL9yF or call any of our four libraries (Eastlake, Willoughby, Willowick or Willoughby Hills) to register.
Trust me, an author experience is always better when you have read the book. On September 25, Willoughby-Eastlake Public Library will be having book discussion of the nonfiction title Furnishing Eternity: A Father, a Son, a Coffin, and a Measure of Life by David Giffels. Join Michelle and I as we facilitate this one-time discussion evening. Place a hold on a copy and enjoy the quick read. Or listen to the audiobook on hoopla (no waiting). Then come and talk with us about it!
Register for the Book Discussion on September 25 at 7 pm at Willowick Library here: http://bit.ly/2PmG74v or call the library at 440.943.4151
Carol Tuttle is the Collection Services Librarian for the Willoughby-Eastlake Library System. She is currently reading Ohio by Stephen Markley
Find These Titles at the Library
[su_divider top="no" style="double" size="1″ margin="5″]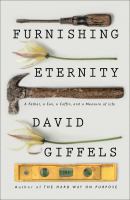 Furnishing Eternity