We're All Adults Here
Book Recommendations & Other Musings
by Carol Tuttle 

Which doorways do you pick?
Last month I had the rewarding experience of learning about personal doorways into a book from Nancy Pearl, the famous Seattle librarian (have you seen the Librarian action figure? That's her!). She is an expert in matching books with readers, and her perspective is, "Any good book is a book that you enjoy". This confirms what we have probably all discovered: a good book for someone else isn't necessarily a good book for you. So how can we direct our choices of books so that we invest our limited time in reading books we will like? 
Nancy Pearl has developed a method based on "4 Doorways" that can be used to describe our reading likes and the books we love. The doorways are Character, Story, Setting, and Language. Think of a book you really loved. You want to replicate that feeling you had when reading that book.  Analyzing the doorways that were important to you can inform future choices. What did you love about that book? Was it the interesting characters you wanted to get to know better (think of The Rosie Project by Graeme Simsion, biographies, or novels by Wally Lamb)? Maybe the story was the best part (novels by Dan Brown, Stephen King or Anita Shreve. Thriller readers of Karin Slaughter or Jonathan Kelleman find the story to be crucial). Or you loved the Cape Cod beach location or medieval time setting that made you feel like you were there. Language is the largest doorway for readers who describe their favorite books as "well-written". Authors like Jesmyn Ward, Umberto Eco and Ann Patchett use literary style that evokes feeling beyond the story line of a book. Some books have all four doorways fairly equal size, and are widely liked by many types of readers: All the Light We Cannot See by Anthony Doerr comes to mind. 
How does this help you pick a good book to read?
 Every book is a blend of these "Doorways" that pull a reader into (or shut them out of!) a book. Think of a pie-chart, and there are four ways to divide the pie. These are the four doorways of Character, Story, Setting, and Language. After thinking about the books you loved and deciding which doorways were most important to your enjoyment, look for the important doorways when you pick up a book to read. Is there a lot of white space on the pages? That means lots of dialogue, so Story will be important in that book. Is there a name or character description mentioned in the title (like The Paris Wife or the Shopaholic series by Sophie Kinsella)? Character is important in those books. Clues to the size of the Setting and Language doorways can come from the title or by browsing the writing itself. A great resource is Novelist Plus, available to you online using your WEPL library card, which lets you find titles to read based upon what appeals to you as a reader.
More from Nancy Pearl is available in her TED talk:
[su_youtube url="https://youtu.be/WjDMbixPSeQ" width="260″ height="220″]
Carol Tuttle is the Collection Services Librarian for the Willoughby-Eastlake Library System. She is currently reading George & Lizzie by Nancy Pearl (first novel by the famous librarian!). This novel has equally large doorways for character and story, a smaller one for language and setting is the smallest doorway. 
Find These Titles at the Library
[su_divider top="no" style="double" size="1″ margin="5″]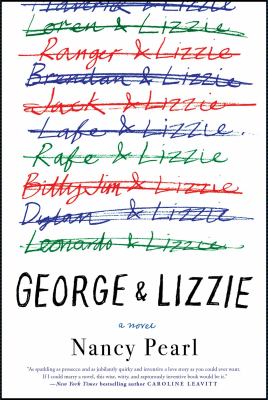 George & Lizzie
Explore our People You Should Meet collection of ebooks. The CHARACTERS are key to these titles. You won't want to say "Good-bye" when the book is done.