Introducing W-E Browse and Speedy Readers
While Willoughby Eastlake Public Library's services are limited due to the coronavirus pandemic, we're announcing two exciting new services that bring the library to you: W-E Browse and Speedy Readers.
Speedy Readers is a new delivery service, and W-E Browse is a personal browsing service where a WEPL librarian makes customized picks of available materials, which can be picked up curbside or delivered through Speedy Readers.
The services can be used together or separately. For example, the customer can select their own holds but opt to have them delivered when they become available. Or you can pick up W-E Browse items curbside or have W-E Browse items delivered by Speedy Readers.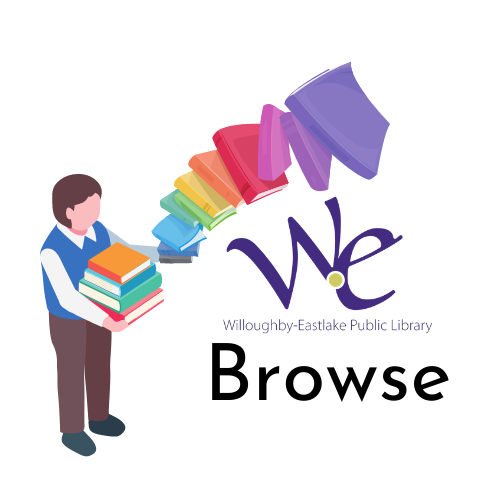 W-E Browse replaces and enhances the experience of browsing when in-library browsing is not available. Our librarians and reference staff are trained to help you select materials, and we're excellent "personal browsers" when you're unable to enter the library! Home with your school-age children while schools are closed? We'll specially select a pile of fresh materials to keep them busy, and maybe buy you a few hours of reading time in the process!
We'll ask you questions about your tastes, the kind of materials you want, how many items you want, and when you want them. Then WEPL librarians will go out into the stacks, find the best items that are available that day, and check them out for you. If you like, we'll call you before checking the items out, to be sure our selections work. Or we'll surprise you! Since an important part of browsing is that you get the items you pick out right away, W-E Browse items requested before 1 pm can be picked up or delivered same day!
To start the program, you can call your favorite W-E Library—Willoughby at 440-942-3200, Eastlake at 440-942-7880, Willowick at 440-943-4151, or Willoughby Hills at 440-942-3362—or fill out the appropriate "W-E Browse" webform at we247.org. There are separate forms for adults, teens, and children.
Speedy Readers is our new expanded home delivery service! If you live within the Willoughby-Eastlake Library service area and have a card in good standing, we'll deliver books, DVDs, Blu-Rays, magazines, video games, children's books and materials, and anything else in our catalog (except hotspots and tablets), right to your doorstep up to once per week per household!
To receive same day Speedy Readers delivery, items need to be available at one of our 4 locations, Eastlake, Willoughby, Willoughby Hills or Willowick and be requested before noon. Otherwise, items will be delivered the next day!
Speedy Readers is also available on holds placed within the Clevnet consortium, but those materials cannot be delivered same day. You will need to contact us when you are notified your holds are available, and we can then set up delivery.
To have W-E Browse items delivered, select "deliver though Speedy Readers" on the W-E Browse form, or call your favorite W-E Library —Willoughby at 440-942-3200, Eastlake at 440-942-7880, Willowick at 440-943-4151, or Willoughby Hills at 440-942-3362.
Patrons are responsible for materials checked out on their card, so someone should be home to receive their items between the hours of 3 and 5pm.