We're All Adults Here
Book Recommendations & Other Musings
by Carol Tuttle

A different January.
Last January I titled my blog post: "Get Out of the Armchair and into the Library".  Twelve months later, I must title this blog post: "Stay in Your Armchair Since You Can't Come into the Library." What a year we have had!  For many of us, browsing library shelves is an important part of finding a new book to read or film to watch.  How do you know what you might enjoy reading, and how do you get that library book in your hands when Willoughby-Eastlake Library buildings are temporarily closed for browsing or you prefer to avoid public buildings?  We are happy to introduce our new service: W-E Browse!
W-E Browse replaces and enhances the experience of browsing when in-library browsing is not an option. Our librarians and reference staff are trained to help you select materials, and we are excellent "personal browsers" when you're unable to enter the library. We'll ask you questions about your reading tastes, the format of materials you want, how many items you want, and when you want them. Then WEPL librarians will go out into the stacks, find the best items that are available that day, and check them out for you. If you like, we will call you before checking the items out, to be sure our selections work for you. To start the W-E Browse program, fill out the appropriate "W-E Browse" webform at https://we247.org/w-e-browse/. There are separate forms for adults, teens, and children. Or call your favorite W-E Library—Willoughby at 440-942-3200, Eastlake at 440-942-7880, Willowick at 440-943-4151, or Willoughby Hills at 440-942-3362 and tell them you want library staff to W-E Browse for you.
If you are the self-service type and prefer to select books on your own, let me suggest some tools to use. For choosing books, we provide a few places to browse digitally:
Novelist Plus offers great recommendations when you keywords or authors. Take a look at the popular lists on the left side ("for fans of…") or enter an author name and try the "read-alikes" suggestions on the right side.
Our digital bookshelf of NEW titles can be found on our website at https://we247.org/new-books/ . The Find Books & More choice on the purple menu bar of our homepage will lead you to find something new to read, including our monthly Book Request Forms and that month's NEW BOOK Releases.
Sign up for newsletters with NextReads.
Browse the shelves at OverDrive or hoopla even If you prefer print format. If you see it as digital, there is a good chance our library can put a print copy in your hands. Find an interesting title and give us a call to place a hold. Or look the title up in our online catalog and place a hold using your library account.
Once you know what you want, we have several ways for you to request your items:
Use the online catalog using your library card account. Place your holds and when you are notified the items are in, call the library to confirm the time and location for your curbside pickup.
Online chat with our library staff from our homepage we247.org (the chat window will open automatically).
Curbside pickup request form from our website https://we247.org/curbsideservice/.
Call the library where you will be picking up your selections and let them know what you want.
Place holds on eBooks with your library card using OverDrive/Libby or hoopla.
The pandemic has not slowed us from continuing to purchase new books every week to meet our patron's reading wishes. If the holds list grows we buy more copies to meet demand. Clevnet delivery is running at full speed to bring in books from our consortia. We are here to serve you!
Carol Tuttle is the Collections & Digital Services Manager for the Willoughby-Eastlake Library System. She  is currently reading  Leave the World Behind by Rumaan Alam.
Find This Title at the Library: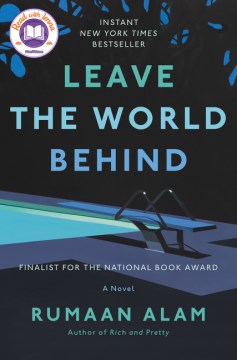 Leave the World Behind by Rumaan Alam